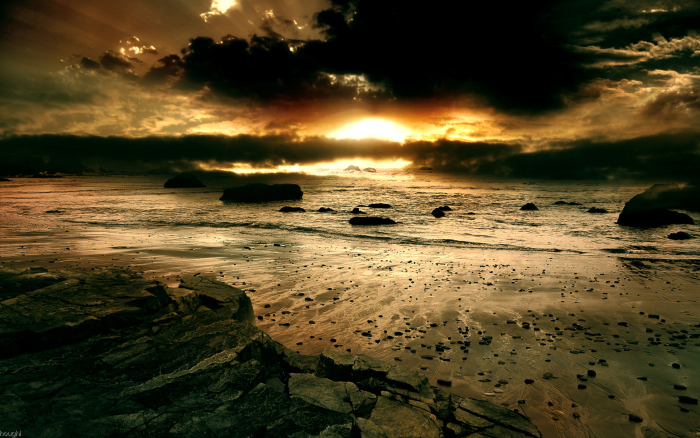 Het biologisch leven is volstrekt onzinnig en op aarde zijn niet alle taferelen even verheffend. Een ongekende kloof tussen arm en rijk (dat gevoed wordt door een eveneens ongekende heb- en graaizucht door al dan niet gekozen heersers/leiders) en een klimaat dat letterlijk snakt naar lucht zijn maar enkele van de Grote Bedreigingen.
Hoe kan een zacht, sociaal en vriendelijk mens nog zijn dagelijkse portie blijheid en tevredenheid bijtanken? Een interessante vraag, juist omdat dit blog veel gelezen zal worden door zachte, sociale en vriendelijke mensen 🙂
Het Hier & Nu is onvoldoende! 
Moet het leven en genieten gezocht worden in het Hier & Nu. Mij lijkt van niet, ook al schrijven vrijwel alle gelukscursussen en handboeken dat voor. Iemand die bijvoorbeeld naar de film gaat kiest bewust voor enkele uren in het DAAR EN ELDERS. Ook iemand die een soap op televisie volgt of naar het voetbal kijkt zal voldoening kunnen krijgen, ook al nam hij afstand van het Hier & Nu.
Kijken naar een film, kijken naar oude foto's van vroeger, dromen over een nieuwe baan of een ander huis… het kan allemaal blijheid en tevredenheid opleveren.
Komt dit misschien omdat het verstrooiingen zijn waarmee mensen proberen te ontvluchten uit hun eigen werkelijkheden? Dat zou goed kunnen, maar wat is daar mis mee?
Je hoeft niet enkel het Hier & Nu op te snuiven om je goed te voelen. Doe wat je graag doet. En doe iedere dag iets waar je de rest van de dag een goede herinnering aan hebt.
Waar het om draait in  je zoektocht naar blijheid en tevredenheid: relativeren. Relativeer je problemen. Relativeer je eigen rol in deze wereld. Je bent een nul temidden van vele andere nullen in deze wereld. De honger in de wereld is niet jouw verantwoordelijkheid, als nul kun je niet meer doen dan je visie uitdragen. Remco Campert schreef er een prachtig gedicht over: 'Notitie'.
Ik zag een jongetje zitten
verwezen op een stoeltje
bedekt met bloed
en asgrauw puinstof
onder een huis weggehaald
met bommen bestookt
door Assads moordenaarstroep
dit gedicht helpt hem niet
Maar het is genoteerd
Zie het uitdragen van je visie als een steen die je verlegt in een rivier: de stroom zal nooit meer hetzelfde zijn, maar veel impact heeft het verder niet. Kom je ooit in de gelegenheid iets structureler bij te dragen aan een betere wereld, dan doe je dat natuurlijk. Maar tot die tijd kun je beter bezig zijn met achterhalen waar op een simpele wijze persoonlijke blijheid en tevredenheid geoogst kunnen worden.
Denken kan gevaarlijk zijn! 
Heb je saai werk en verder geen ambities? Ook dan ligt tevredenheid voor het grijpen! Je gedachten dwalen tijdens het werk af en die gedachten brengen je vaak naar het verleden of naar de toekomst. Ben wel kritisch op je gedachten. Negatieve of onprettige gedachten moet je zoveel mogelijk uit de weg gaan.
Denken is handig voor je werk en je planning, maar verder vaak zinloos en soms ronduit gevaarlijk.
Genieten en denken gaan vrijwel niet samen. Genieten doe je met je hart en denken doe je met je hoofd.
Geniet van je gedachten, maar sta niet toe dat ze overgenomen worden door negatief denken. Dit wil bijvoorbeeld wel eens gebeuren met een persoon die in bed ligt en de slaap niet kan vatten. Naarmate de moeheid voortschrijdt verliest het denken ook nog eens alle structuur. Het is dan tijd om even op te staan en de aandacht te verleggen.
Ik had op een middag nogal wat stress van mijn werk en ging op een terrasje koffie drinken. Terwijl mijn koffie in aantocht was kon ik de gedachte aan mijn werk niet zomaar loslaten. Er ontstond een negatieve denkspiraal. Het denken was destructief en negatief geworden. Zoiets is ernstig, maar is er gelukkig een eenvoudige remedie: je aandacht verleggen, net zoals de slapeloze die beter even kan opstaan en wat gaat wandelen. Ik hoefde zelf niet op zoek naar een andere werkelijkheid, want voor mijn ogen ontspon zich iets heel leuks. Een groep kinderen kreeg in de buitenlucht een les "bewegen op muziek". De muziek was prettig swingend, de kinderen genoten en ook de gymnastieklerares genoot zichtbaar van haar werk. Meer dan een half uur keek ik naar puur plezier, naar de schoonheid van bewegen, naar blije en leuke mensen. Er verzamelden zich meer toeschouwers en iedereen was ontspannen en blij. Toen de les voorbij was merkte ik dat mijn eigen stress voorbij was. Ik was door het onverwachte schouwspel op andere gedachten gebracht en dat had goed gewerkt!
Om blij en tevreden te zijn is het af en toe dus nodig om je gedachten te verleggen. Daarvoor bestaan ideale plekken, gebruik die plekken! Een park, een bos, een kinderboerderij, een goed boek, fijne muziek.
Zeker in een bos moet je kijken waar je je voeten plaatst en wordt er echt wel een beroep gedaan op jouw voortdurende attentie. Malen of negatief denken is dan vrijwel onmogelijk.
Je kunt ook tevredenheid tanken in een museum, of in een zwembad of sauna of op de tribune bij een sportwedstrijd. Wat dacht je trouwens van zelf sporten? Of van een goede scheerbeurt voor de spiegel?
Zie blijheid en tevredenheid als een lichtknop die je zelf aan en uit kunt doen. Naar keuze. Blijf je liever hangen in negatieve emoties of kies je ervoor om eens goed rond te kijken, rond te horen, rond te voelen? Loslaten is het toverwoord voor wie bevrijd wil worden.
Onderzoek wees uit dat mensen met een huisdier gelukkiger zijn. Dat zou er mijns inziens best wel eens mee te maken kunnen hebben dat een huisdier zijn baasje al snel dwingt tot wat aandacht.
Hetzelfde onderzoek liet zien dat kleine activiteiten, zoals boodschappen doen, tevredenheid stimuleren.
De zin van het leven is de zin in het leven. 
Is het leven dan werkelijk niet groter of meer verheffend? Ik vrees van niet. Voor hen die zichzelf belangrijk vinden is dat natuurlijk geen fijne boodschap. Maar het is niet anders! Het leven is een optelsom van dagen, zonder biologisch doel. We moeten het hier zien te rooien met elkaar. We hebben prachtige dingen ontwikkeld, van kunst en architectuur tot wetenschap en technologie, maar we hebben ook een grote vuilnisbelt gecreëerd. Het leven is waanzinnig en absurd.
Mijn visie: de zin van het leven is de zin in het leven. De zin in het leven wordt krachtiger naarmate er een grotere bereidheid is die zin te delen met anderen. Zodra die zin over is of zodra er niet meer gedeeld kan worden, kan de stekker er net zo goed uit.
Kinderen hebben weinig last van gevaarlijk denken omdat ze constant verwonderd zijn over wat ze zien, horen en voelen. Ze hoeven zich daarvoor niet in te spannen. Wij moeten ons wel inspannen. Wij moeten actief op zoek naar heilzame verwondering en bewondering. Hoe meer we oefenen, hoe beter we het gaan beheersen en hoe meer zin we in het leven krijgen of houden.
Eet je bord niet in recordtempo leeg op de bank voor TV, maar eet met volle aandacht, ook als het eten niet direct jouw aandacht vraagt. Neem de tijd en let eens op kleur, op geur, op smaak. Trek een glimlach, trek je sportkleren aan, maak eens een heerlijke maaltijd, zoek op YouTube naar het mooiste muzieknummer dat je kent, verwonder je over de schoonheid van je partner of de fijne eigenschappen van je vrienden, ouders of kinderen. Schrijf een brief of bel een leuk persoon.
Blijheid en tevredenheid zijn dichterbij dan je denkt! Je moet gewoon wat handiger worden in het bedienen van het schakelknopje. Dat is heel zinvol.