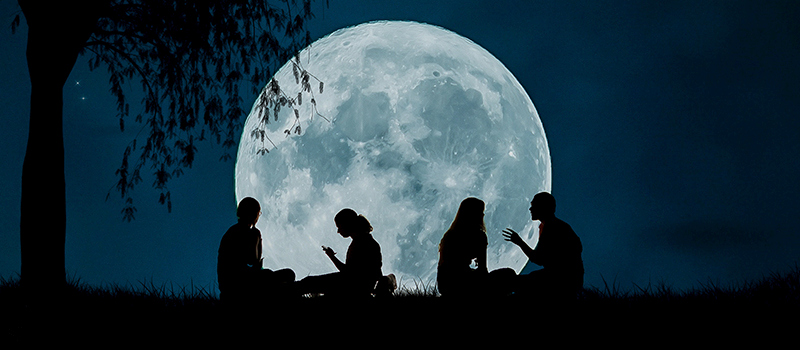 We doen maar wat. Het leven kent geen doel of richting. Wel weten we van Darwin dat de sterkste/rijkste wint en niet de leukste. Wat een gedoe. Eigenlijk… mag je het leven  best uitlachen. Maar er zijn ook hele mooie kanten…
We volgen wereldlijke, spirituele en religieuze leiders, maar weten diep in ons hart dat die leiders het natuurlijk ook niet weten. Waarom zouden ze immers meer weten dan wij?
Genieten doe je niet als je de krant met het wereldnieuws open slaat, maar wel als je oog hebt voor de kleine dingen in het leven. Ook mensen kunnen prachtig zijn. Lieve, prachtige mensen in hun kracht en in hun zwakte. Kinderen zijn altijd ontwapenend eerlijk en afhankelijk. Maar dat zijn dieren natuurlijk ook.
Verdoe je tijd op aarde niet met belangrijk doen of jezelf of anderen hinderen. Het is heerlijk om een nul te zijn, omgeven door al die andere nullen. Heb je last van enkele van die nullen en valt er met een goed gesprek niet uit te komen? Zoek wat andere nullen waar je met meer plezier mee verder kunt.
Weet je dat de dood niet lang meer op  zich laat wachten? Ga dan niet piekeren, maar ga voort met je te verbazen over de wereld. Heb je een verantwoordelijkheid op aarde, anders dan de verantwoordelijkheid voor jezelf en de verantwoordelijkheden waar je zelf voor hebt gekozen zoals de opvoeding van je kinderen? Ik denk het niet. Je tijd zit erop en dat is prima zo. Anderen mogen het stokje overnemen. De waarheid is dat je volkomen toevallig op aarde bent beland en zelf geen enkel doel dient, laat staan één of ander Heilig Doel.